2011 SCCA Toledo National Tour
When we decided it was time to get serious about autocrossing over the winter, the first big test on the calendar was the SCCA Toledo Tour, held on the July 4th weekend at the Toledo Express Airport.
If we wanted to go to the national championships, we had to run one of these tours to qualify or pay quite a steep extra entry fee for Nationals. Fortunately, there are a number of tours to choose from. We could have run one in the spring in south Georgia, or in May at Atlanta Motor Speedway, or early June at Dover International Speedway. Actually, that Dover one would have been great, except we already planned a trip elsewhere for that weekend.
Toledo sounded like the best bet. Atlanta sounds closer to home, since we've been there quite a few times, but it's actually a couple hours longer than Toledo. The most appealing aspect of the Toledo tour, though, was that it was being run on a concrete airport runway. Nationals are also run on concrete, so there was a much better chance of learning about how our car will drive in Lincoln (the site of the national championships) at Toledo than anywhere else.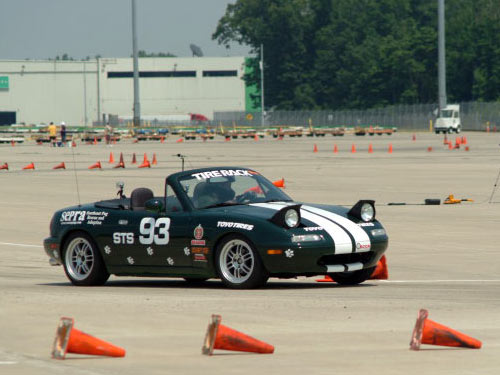 The first trick to Toledo is getting there. I put the car on the trailer and that's where I made my first mistake. There's a lot of advice out there for loading cars and strapping them down onto trailers, and I think a lot of it is wrong. Well, maybe "wrong" isn't the right word; perhaps "conflicting" would be better. Regardless, we left and got down the road only to find out the straps just would not stay tight. Even with a stop to dismantle everything and start over, nothing worked. The car never was in danger of removing itself from the trailer, but we were not filled with confidence regardless.
The scene at Toledo was something else. Acres of concrete without pesky light poles or anything like that. We snagged a great grid spot and geared up for competition. If this were a happy story, it would end here.
We can make this pretty simple: we got beat badly. It wasn't a bloodbath where we were both many seconds away from everyone else in the class, but I had to drive extremely hard to wind up 19th out of 21. For someone who joked earlier that week about wondering how much Mazda contingency paid for a 15th place finish, this was not what I wanted.
Finishing position aside, we did accomplish what we wanted to at Toledo. We needed to run a national-level event just to get some idea of how these things worked so we wouldn't be completely out of our element at Nationals. We needed to run on concrete to have a better idea of how our car would handle on it. And we needed to see how other, better, drivers set their cars up so we could see what we needed to do to ours to narrow the gap between us.
This last part is the one we can do the most about, even if the idea of spending more money on the car goes against our Parsimonious nature. But we showed up with, by far, the least modified car in the field. Yes, you can put together a good car to run local events with good suspension, improved exhaust, and a decent set of wheels & tires, but that isn't going to cut it in this world unless a better driver can overcome everything else everyone else does to their cars. Since that doesn't describe me, we have work to do.
Our car is box stock under the hood. There's not a lot that we're allowed to do under there, but we haven't done anything yet. While the Miata folks say that aftermarket intakes don't affect the cars much, we had the only car that didn't have one, so one is on order. After that, some cars had some novel heat shielding in an attempt to keep engine heat away from the intake. Materials for a project like that shouldn't add up to much, so once the intake is in place we'll take a shot at that as well. It might only buy us a little extra power, but if we're giving up power to other cars, that's not going to help us get closer to them in the results.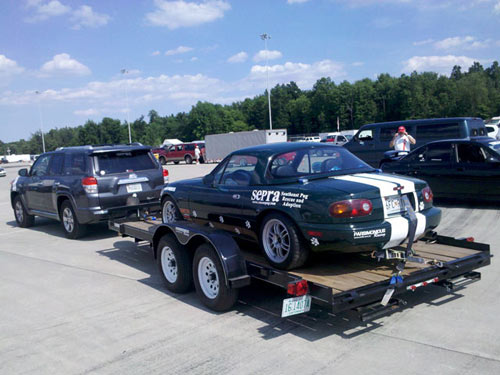 The biggest lesson learned is that tires with tread are not the hot setup. We ran on nearly new Toyo R1Rs, which are the hot setup in the class and have been for the last few years. What I did not know is that the fast guys take their Toyos and have them shaved down to minimal tread. Driving our car, the squirm from the tread blocks was pretty evident. Getting those taken down to the same level as everyone else very easily could be the biggest difference-maker of all the changed planned before going to Lincoln.
The best news from Toledo was that, with a few good pointers from one of our fellow Miata drivers, we got the car on the trailer and tied down in such a way that nothing came loose for the entire ride home, and I think we even know how to duplicate that effort so we don't have to worry about it again for the next tow. That'll happen at the end of August when we head to lovely Nebraska for the national championships.

Saturday's course:

---