Getting Ready For The Big Show
It was a little less than a year ago that we decided we were going to make a run at the SCCA Tire Rack Solo National Championships ("Nationals"). While a year sounds like a long time to prepare for such an adventure, it seems like just yesterday as we start making final preparations for the haul out to Lincoln, Nebraska for the culmination of all our time and effort.
So what happened during those twelve months?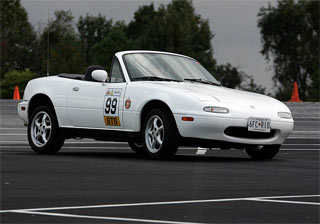 For starters, we put together a new car. We had been running my white and green 1990 Miata, but we decided early on that it was only a good second choice for this effort. Compared to Kate's 1993 Miata, the '90 had more miles, less oil pressure, and a roll bar. And while the difference between engines might not have been much, the roll bar was unnecessary weight located in a bad place (high in the car). The car was good, but I wasn't interested in taking parts off it so we elected to start over from scratch.
The car we're running is the Ugly Duckling. We picked it up for $1500 at a junky used car lot in Newburgh, Maryland. It needed brakes and other maintenance but it was a solid base-model car with no power options to add weight or complexity. We took care of the maintenance items and ran it as a STS car locally even though it was still stock aside from wheels and tires. Once we decided it was going to be our weapon of choice to go to Nationals with, the fun began.
September 2010: based on glowing reviews, we ordered coilovers from FatCat Motorsports. They're non-adjustable, which means I won't dial ourselves out of a decent setup with uninformed tinkering. The fine folks at FatCat asked all kinds of questions about the car, our driving, where we ran, what surfaces we ran on, what tires we run on, etc. It took a while for the work to be done, though that wasn't a big deal since the autocross season was pretty much over when we placed the order. the coilovers showed up Christmas Eve.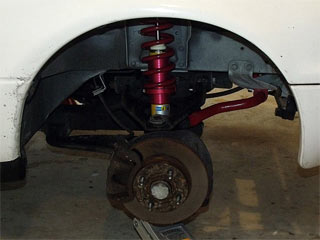 January 2011: Having coilovers in hand is one thing, getting them in the car is another. It's a simple task made easier with the car coming apart easily as well as having good help to get the job done more quickly. Nick and Zoli pitched in and we swapped suspension on New Years Day. We also added a Racing Beat tubular front anti-sway bar. We got the car aligned by York Automotive.
March 2011: The next bit of the Duckling that got attention was the exhaust system. The original catalytic converter and everything behind it came out, replaced with a Flyin' Miata high-flow cat and exhaust system. Again, the job was simple with our pit crew helping out. We could have gone with a lighter exhaust, I suppose, but this car leads two lives: in addition to being the primary autocrosser, it's also a car Kate takes to work and back occasionally as well as doing weekend duty. We like the sound of Flyin' Miata exhausts (we have them on every car in the fleet). It was an easy choice and probably not much of a compromise performance-wise.
We also took a big step in the other major portion of this adventure, which involves getting the car to Lincoln safely. Driving the car out there made little sense, so we decided we would tow it. This meant trading in our SUV for something with more capacity, and in March we swapped our Santa Fe for a Toyota 4Runner. It's a big, meaty tank, but it gets the job done.
The Duckling made its first competitive runs with its new suspension and exhaust when Kate took it to a local BMWCCA autocross. She did well, finishing eighth out of fourteen in class. We also ran the WDCR SCCA practice event, which my first time running the car with its new setup.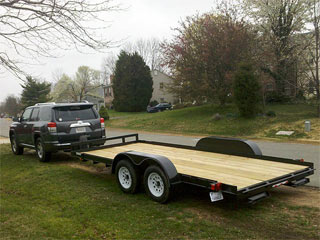 April 2011: Part Two of our car transportation system came home in April in the form of a trailer. In years past I'd scoffed at those who trailered autocross cars, especially street-legal and street-tired cars, and now we were doing the same. As for the car itself, we performed no upgrades but started preparing for its paint job. On track, we ran the first WDCR event and got fifth out of eight. We also ran it with Autocrossers Inc., pitting it against the '90, but it was not a fair fight as the conditions were cold and wet, and the '90 was wearing temperature-sensitive tires that could not find grip.
May 2011: The Duckling was transformed, though the progress only took it from one level of ugly to a second. The flaking white paint was sanded down and me and my dad put down a layer of British Racing Green paint. It came out so-so, but still an improvement over what it was - this was not difficult. At the end of the month, Zoli put the stripes on it. We got more track time with a wet doubleheader day running Autocrossers Inc. at Waldorf and then the next day with WDCR at FedEx Field. Another piece of the puzzle showed up near the end of the month when our Toyo R1R tires arrived.
June 2011: A relatively quiet month on the autocross front saw us make another WDCR event, one with a big 13-car field. I got 6th and Kate got 10th, so performance-wise we were in the ballpark, at least locally.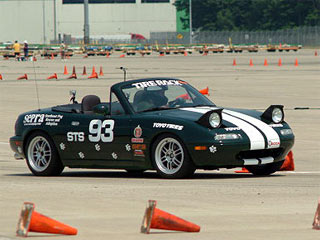 July 2011: This was the real start of our getting serious. We put the Duckling on the trailer and towed out to Toledo, Ohio, to run the SCCA National Tour event there. The recap's elsewhere on this site so there's no need to go into detail here, aside from again acknowledging that we left there a whole lot smarter about what we have to do to run at a national level.
We got a pretty surprise, and not the good kind, when we took the Duckling through tech for the National Street Tire Challenge at FedEx Field in mid-July. Because of a loose wheel bearing, the car was not permitted to run. This came as quite a shock since the car had been passing all along up to that point with not a word about that part starting to fail. We scrambled for co-drives and we did get to compete in other people's cars, but it wasn't the same and I never got completely comfortable. There was a local event at FedEx the next day, and we ran that with the '90 and did fairly well, just missing the class win in a small class.
Big Lesson Number One from Toledo was put into place afterwards. We took the R1Rs to Windsor Customs and had them shaved down to 4/32nds of tread. Us cheapskates have a philosophical problem with taking rubber off perfectly good, nearly new tires, but it had to be done in the name of competitiveness down the road. We also picked up a wheel bearing and swapped out the one that gave us issues in tech earlier in the month.
August 2011: We ran the last two WDCR events of the season in early August, and we did well enough to record a couple decent finishes and wind up the local season third in points. Under the hood of the Duckling, we finally ordered and installed a fresh air intake, fabricating heat shielding out of HVAC insulation that actually proved to make quite a bit of difference, temperature-wise, than I expected. I don't know if anyone else was impressed with the work, though, as a tech inspector looked under the hood at the last DC event and said "nice job with the aluminum foil". The only other mechanical work we did was replace the other front wheel bearing as I found a little play in the left side checking things out after swapping tires around.
As we put pen to paper here, we have three days before leaving for Lincoln. The to-do list is still pretty long, though the car is pretty much ready to go. We're expecting a couple more care packages to come off the big brown truck: an R-package front lip that is merely a cosmetic upgrade, but what a cosmetic upgrade it is. We're also getting a cockpit cover to keep the interior of the car cool while in grid. The Duckling will get washed and waxed, its wheels cleaned, and loaded up mid-week. The 4Runner is getting a quick clean-up as well. We'll go over our list of things not to forget to bring with us before saddling up and heading west to Lincoln, where we'll probably get beat pretty badly, but we'll have fun regardless.
---