2012 In Review
Just as we're about to embark on our next season of autocross, and as we mark the thirteen-month mark of the last item ever posted to this page, we'll take a few minutes to see how 2012 treated us.
To put it briefly, 2012 treated Parsimonious Racing pretty well. We put a checkmark next to one of those items on our to-do list that, frankly, I didn't think we'd be able to do. We continued to take on larger events and put up, well, results, even if they weren't spectacular. And we found new ways to advance autocross in general in hopes of attracting new drivers to the sport.
WDCR SCCA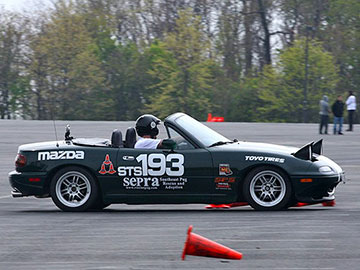 Contending for the STS season championship in the Washington DC Region of the Sports Car Club of America was the primary goal entering 2012, and it's a goal that we achieved. Things did not get off to a great start as Alan was third and Kate was sixth in a nine-car class at the practice day, but there was hope in that we knew that the two drivers who were first and second would not be running for the title. We have to find these things to take solace in when getting beat by two and a half seconds.
Points event #1 saw Alan and Slava Burmaka running 1-2 through the first three runs, and Slava, picking up eight tenths on his last run, had the lead. That lead was short-lived as Alan was the next car to run, and he picked up a quarter-second to reclaim the lead. Early signs showed that this could be a heck of a season-long battle. Kate was fourth in a class of eight.
In DC Region's second event, Alan cruised to a 2.5-second margin of victory and we saw a sign of things to come as Kate, still trailing both Burmakas, was closing the gap between the couple. She got within a half-second of Meiling in the third points event.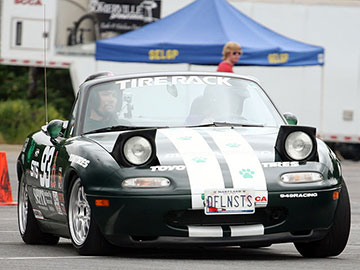 The fifth event was the second half of a Saturday-Sunday doubleheader, and Alan figured that's where his winning streak would come to an end. Little Mike Snyder was entered in his potent CRX and was leading after two runs. Alan picked up eight tenths on his third run to squeak a slight lead over Mike, and, to his surprise, both drivers couldn't improve on their fourth runs. With five wins in his pocket and each driver's best five finishes counting towards the championship, Alan had sewn up the season title with two events still to run.
Winding up third on that day was Kate, who not only caught up to the Burmakas, but passed them both. Parsimonious Racing's first and third in a class of eight driver just might be the highlight of the year. We followed that up with a 1-2 in the sixth event, and skated home first and third on a damp final day of the season.
When the points were tallied and the drops subtracted at the end of the year, Alan had a perfect score and brought home the big hardware. Kate ran well enough to take second in points by just a couple over the Burmakas, so we're pretty happy to leave our mark that way.
AUTOCROSSERS INC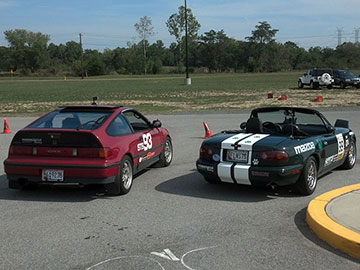 The big development with AI was our being invited to join the committee that plans and puts on these events, and we gladly joined. The two biggest changes this meant to us was that we could have a real, hands-on effect on how smoothly AI events ran and how we could help drivers enjoy their autocross experience even more. We get to the site early, help set up, hold down the waiver gate, and instruct new drivers just getting up to speed.
Being on the committee means that we can't run in the regular classes at an AI event, and instead are considered "Pros" so we get to run against all the big guns. Having said this, we got no trophies. If nothing else, though, AI was where Kate beat Alan for the first time. She was driving the Duckling, while Alan was trying out the commuter appliance CRX for the first time. We won't make that mistake again.
NCCBMWCCA
We started out with intentions of running as many NCCBMW events as we could to try and qualify for year-end awards, but it just didn't happen. There were schedule conflicts, events at Bowie, and class changes that stuck a knife in our original plans. We did have some success, though. Alan won the race tire class at the first event of the year, only because he didn't switch classes after changing tires on a rainy day. Kate had a fifth place result in a crowded 16-driver X4 class the second time we ran with them.
SPECIAL EVENTS

The biggest event we ran was, naturally, the SCCA Tire Rack Solo National Championships in Lincoln, Nebraska. We were no longer rookies on our second trip out there, so there were fewer unknowns, less wide-eyed noviceness on our part. We had another year under our belts, a better idea of what to expect, a better idea of what the courses would be like, and as a result we did, well, worse than the previous year. 33rd and 40th doesn't sound quite as good as 31st and 34th, but looking at the cars assembled in 2012 showed that there were far more better-prepared cars than there were in 2011. We admit it, we beat up on a handful of cupcakes that didn't come back for more this time around.
The results from competition may have been disappointing, but the trip was certainly still worthwhile. Unlike the previous year, we got to stay in town to catch the banquet and see a couple of our local heroes pick up some prestigious awards. Then it was off to Sonic for ice cream and an epic night of karaoke that just might remain the highlight of the entire trip. We'll gladly do it again.
DC PRO SOLO
This might have been the biggest letdown of the entire year, even though it started out so well. We had never done a Pro before, and with one being played at our home field we figured this was going to be the best time to try it. Kate elected not to participate so Alan was on his own in a stellar field of STS cars. Practice starts on Friday showed it to be not that difficult, so Saturday morning saw optimism. Those results were forgettable (meaning that I forgot what they were), but the afternoon session saw everything fall into place. Alan made small progress on his first two runs, then chopped off 1.6 seconds off the left side course and another six tenths off the right side to end the day fifth in class, within easy shouting distance of the last trophy spot. But on Sunday he couldn't pick up where he left off, and others did, so he wound up eighth out of ten.
NCAC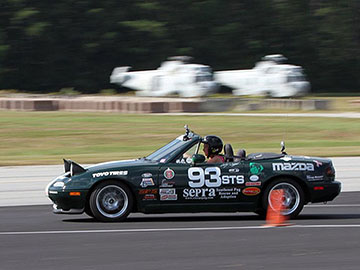 For the second time, we towed down to invade the North Carolina Autocross Championship. This is a competition between the five autocross clubs in the state to square off against each other for bragging rights, and we can't help anyone's cause there, but both years it's been held on a spectacular site and it's been our one last big hurrah before settling in for winter. The 2012 edition was held on a huge airport taxiway on the Cherry Point Naval Base and it was a slick, fast course. Alan and Kate were fifth and sixth in a pretty stout class including Nationals trophy winner Kraig Klippel, and meeting him was probably the best part of the weekend.
DOVER EVO SUPER SHOOTOUT
We wanted to support Junior Johnson's novel Evo Super Shootout series since it was announced, and we got the chance to do that at Dover International Speedway. It was the weekend before July 4 and temperatures were in the high 90s the entire time. The Shootout took the top 48 in PAX results, as well as a handful of randomly-drawn entrants, and put them in Sunday's elimination brackets. We were feeling pretty good about our chances when there was a 75-driver entry, but then the count ballooned to 130 and we were less optimistic. We put up a good fight but didn't make that top 48, and our names weren't drawn on Sunday, and we took that as a minor blessing as it gave us a head start on our ride home in air conditioned comfort.
PHILLY REGION SCCA
Alan rounded out his season by running with SCCA's Philly Region as they wrapped up their year at Dover. The only entrant in STS, Alan had to compare himself to the large STR class to measure his results, and those weren't too bad. It was a decent day to spend in a parking lot and a decent way to finish off 2012.
---