2013 SCCA Atlantic Tour at Dover
We've had some fun running local events for the first month of our 2013 season, but the first chance to play on a larger stage came this past weekend when we entered the SCCA Atlantic Championship Tour at Dover International Speedway. We've run here before: we both ran the Evolution Super Shootout last summer, and Alan ran the final Philly Region autocross to close out the 2012 season. This gave us needed familiarity with the site, which features two different lots that have vastly different grip characteristics.
This was only our second Tour, but with two trips to the SCCA Solo National Championships under our belts, we were familiar with how these events work. Unlike local autocrosses, we only get three runs per day to put down our fast times rather than four. The course is reversed after Saturday's action.
The courses were designed by Philly Region's Jeff Jaconbs, and he did a great job of keeping the clutter to a minimum while still including a good mix of flat-out straights - some of which weren't all that straight - and heavy braking zones. I don't think we ever got close to not knowing where to go next, so we could concentrate on hitting our marks and trying to maximize speed in the sections that allowed it.
Our STS class was not a large one, with five drivers on the entry list. Parsimonious Racing made up two, with the familiar tandem of Mike Snyder and Ian Baker entered in their CRX. The fifth was an unknown quantity, Brian Wells from Virginia Beach. His Miata was a relatively fresh build, set up fairly similar to ours, though he was on 225-wide BF Goodrich Rivals rather than the 205s we use. He was still learning the car and its setup, but, being a former Corvette autocrosser, he was no stranger to going fast.
Friday's practices went well, though very little of the practice course would be relevant to what we'd see on the balance of the weekend. DC Region STC hotshoe Alejandro Aviles asked to take the car out a couple times as he was co-driving a RWD car that hadn't arrived yet. I asked him to ride with me and see if he could give me some pointers, and he came up with a couple that I'm sure will pay off down the road.
We opened up Saturday by working the course. This is unusual for us. As committee members with both WDCR SCCA and Autocrossers Inc., we don't get "normal" work assignments at local events anymore. That we got regular jobs at the Tour - Alan as corner captain and Kate chasing cones - was a nice change.
Ian Baker wound up having to cancel his entry due to work, so STS was down to four drivers as we headed to grid on Saturday. Snyder ran off and hid with the class lead, which was not at all unexpected. But us three Miata drivers staged a fun battle with me in second and Kate third until final runs. Wells picked up nearly two full seconds on his final run to not only pass Kate, but pull within a couple of tenths of me in second place. My attempt to build a little cushion between us on my last run went awry when I overcooked the last tight turn before the finish, turning what was going to be a nice pickup into a loss.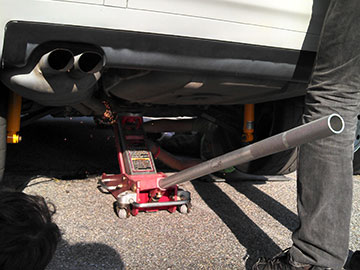 The fun began after engines went silent on Saturday afternoon. We went out to get dinner while the course was reversed for Sunday's action. We walked it a couple times and hung out with some of our local heroes. Eventually we were thinking of heading back to the hotel but decided to take one last ride through paddock to see what was going on. A crowd was gathered near Danny Kao's latest purchase, the "Toilet Duck" E36 BMW being driven this weekend by Mike Kline and Pat Griffith in STX.
The Toilet Duck was undergoing a crash diet. The stock battery was already removed in favor of a small Braille unit. The passenger seat was removed - all 60+ pounds of it - as arrangements were being made for a lightweight racing seat to take its place in time for its Sunday afternoon runs. But the most dramatic change was happening under the car, where Josh West was wielding a cutoff wheel to remove a good chunk of the car's exhaust system.
Someone mentioned that sound wasn't being measured at this event, and wheels in my head started turning. I'd been toying with the idea of having a short, light exhaust system made up for our Miata, although a proposed rule change for 2014 might take away that allowance. But with the possibility of a sound penalty off the table at Dover, and no need for a cutoff wheel to shorten up the Miata's exhaust, I started thinking about trying the short exhaust idea myself.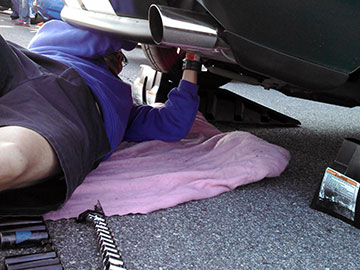 I backed the car up on ramps and eyeballed the system. Our Flyin' Miata exhaust was a two-piece affair with the connection just past the rear suspension. I figured if I could undo the two bolts there using my cordless impact wrench, I'd do it. If I couldn't make that tool work in that fairly tight spot, then it wasn't meant to be. But I got the two bolts undone quickly and after that it was just a matter of dealing with the rubber hangers.
I was a little disappointed to find that the muffler only seemed to weight maybe 15 pounds, as I expected better weight savings than that. But that's a good chunk of the difference between our car and Wells' (he said his weighed in at 2060 lbs, while ours came in at 2080 a couple weeks ago). At the risk of losing back pressure, uncorking the exhaust may have gained us a little power. I just hoped that the sound the car would produce wasn't going to be too terribly obnoxious.
Sunday morning we were back on course, this time both serving as corner captains. With that job done, it was time to strap on the driving shoes and try to get a 2-3 finish on the weekend. The course seemed to flow a lot better going in the Sunday direction, starting on the gravelly lot and finishing up on the grippy newer lot. Kate, behind Wells by a second, picked up three tenths on him after first runs, while I put a full second between me and him. Both Wells and I improved by three tenths or so on second runs, while Kate picked up eight tenths.
After getting my time slip on my second run, B Stock S2000 driver Steve Kahre came running up to me and told me I was letting off the gas before I got to the timing lights. The finish did appear a little deceptive, and frankly I wasn't giving it much thought. I don't know if it cost me much time, but as close as we were running, I couldn't afford to give anything up.
On final runs, Kate found another three tenths. Wells picked up nearly a full second to pull within less than a tenth of a second out of my second place. That was close enough to scare me, but not enough to take the position. That left me with no pressure to perform miracles on my final run. I left grid with the goal of diving in deeper, accelerating sooner, and clipping apexes sooner to try and see how much better I could run. I don't think I did any of those as I improved by only a trivial three tenths.
Snyder won the class handily. I wound up second, a full 3.76 seconds behind over the two days. Well was third, just .350 back of me, and Kate was two seconds behind Wells. Overall, we're happy with how we ran. Kate and I both left Saturday knowing we had missed opportunities on our last runs that cost us some time, but I don't know if either of us would have improved any positions if we cashed in on those runs.
To my relief, the car wasn't terribly loud on course. When I pulled it into grid I revved it up a little and the sound, bouncing off the Monster Mile grandstands directly behind me, was enough to make me cringe. But on course it didn't seem that much louder than most other cars competing over the weekend, and far from the loudest. We'll probably run it like this, or with a short turndown tip, until someone tells us we can't anymore.
We stuck around for the trophy presentation, since I earned one with my finishing second in a four-driver class. In the random prize drawing sponsored by Solo Performance, my ticket was pulled and I wound up winning a free entry to another Tour sometime in the next 12 months. While we hadn't planned on going to another Tour this year, a free entry is enough of an incentive for us to check the National calendar and see if there's one we might want to go to.
Overall, we left Dover very happy. The car handles extremely well, our driving is improving, and we're still having a ball hanging with the rest of the DC Region folks at these out-of-town events. We're looking forward to a fairly quiet month of May before launching into the meat of our schedule, starting with the DC Pro Solo in early June.
---