Playing Catch-Up From Solo Nationals To DC Pro Solo
The (relative) success story of the 2014 Washington DC Pro Solo began a couple months beforehand, and will hopefully continue well beyond our local Pro.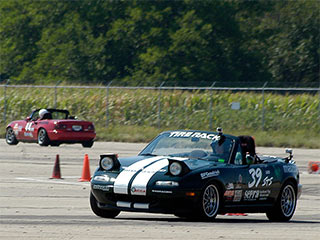 In reality, the story of how we got to the Pro with the car we were driving goes all the way back to the 2013 SCCA Solo National Championships. We arrived with the same 1993 Miata we've been running since the start of the 2011 season. We'd been chipping away at that car, reducing weight here and there, messing with alignment settings, but not making much progress. At Nationals, we got a number of drivers to drive the car on the test & tune course and they came back with setup changes that we just couldn't do. "Soften the rear," they said. But our FatCat Bilsteins were non-adjustable. We could mess around with tire pressures and that was about it.
We left Nationals not terribly happy with our bottom-five results and decided it was time to grow up and learn how to set a car up and fiddle with it. We'd progressed enough since 2011 to now know roughly what knobs to turn and what dials to fiddle with to try and fine-tune a car's setup, but we had to almost start over from scratch to do it.
We called Sam Strano and told him we were putting our autocross futures in his capable hands. He sent us Koni shocks and sleeves and springs and bump stops. We got those in the car in time for some late-season testing. The result of that testing was that the car was definitely better, but it was being held back by its lack of a viscous limited-slip differential.
The big winter project was to find the VLSD that would work in our car and get it installed. But as we investigated this purchase, we found out that it wasn't legal to add one to our car. SCCA Street Touring rules say that we can't race a car that didn't exist, and in 1993 a base model car could not be bought with a VLSD from the factory. In 1990, '91, and '92 one could buy a base model Miata and add the VLSD as a stand-alone option. In 1993 this changed, and one could only add the VLSD as an option to a car equipped with a higher option package.
Since a 1993 base model Miata with a VLSD didn't exist, we couldn't recreate one. In order to race a car with a VLSD, which was becoming a necessity, we could convert our car to a higher optioned car. But 1993 Miatas with the "A" package or higher all had power steering, and our car had a manual rack. We'd have to add power steering in order to add the differential. That sounded like a lot of work and we were loathe to even consider that.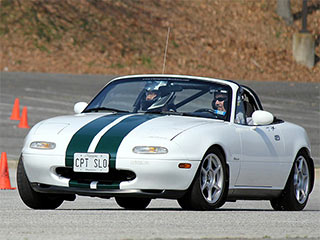 The most natural option was to simply race an older car that could have the VLSD regardless of what other equipment it was sold with. I already had a 1990 base model, but I wasn't enthused about the possibility of making that the primary autocrosser. It had a roll bar, which is legal to autocross with, but not ideal since it is a pretty good chunk of weight way up high in the car. It also had Flyin' Miata frame rail braces, which were not legal for our class. Both would have to be removed for the car to be a competitive Street Touring "S" autocross car.
Kate knew I wasn't all that happy about the thought of taking stuff off my fun car, and thought the best tactic would be to find another car and build that into the next race car. We wouldn't even have to register it, she said. But I decided that before we made that investment, let's give the '90, "Captain Slow," a fair shot.
We baselined the '90 and the '93 at a WDCR test & tune day in the spring. Even with little prep, it was turning very close times to the '93, the Ugly Duckling. On equal tires, I got Slow within a couple tenths of the Duckling. This was encouraging. Back home, the transformation took place. The Konis were moved over, the roll bar and frame rail braces removed, and the aluminum race seat and little battery were transferred over. We ran the WDCR practice event with the car like this and it was decent. I was secretly hoping the car already had a VLSD in it but of course it didn't.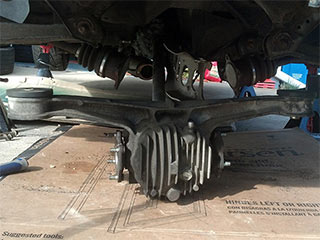 Fortunately, a VLSD came up for sale in South Carolina. The same seller was also offering a set of 7.5" 6UL wheels, which can always come in handy, so I made a little thousand-mile day trip to pick those up. The wheels are wearing old Hankook RS3 tires, supposedly completely wore out, but they'll be good for test-fitting in case we decide to run the newer version of those tires sometime down the road.
Now with the VLSD installed and the car ready to go, we ran an Autocrossers Inc. event here in Waldorf and had encouraging results. This was the last shakedown before the Pro Solo. All that was left was to order and install a new Racing Beat Header, take the SPX2 intake from the Duckling, and get an alignment. The header install took a couple days, but the rest was relatively simple. We took the car to get "Andy Tooned," though the alignment couldn't be done to quite the corrects specs since the car's (probably original) bushings and adjustment bolts weren't all that cooperative. But it was better than when it arrived, so we're still making progress on it.
Thursday we washed the car, put on the magical pixie dust Toyos, and loaded it on the trailer. I went to work on Thursday night and came home in the morning for a nap. Kate brought the truck with the car to FedEx Field early in the morning, while I showed up around noon. I started to unstrap the car from the trailer and found something missing. I called Kate to see if she brought the keys to the little car with her, knowing that she probably didn't. I also knew that I hadn't, so that meant I had to make the banzai run back home to get a key and motor back to continue the unloading job.
Last year at the DC Pro, I was one of two worker chiefs. This year I was promoted (?) to "Chief of Course". Sounds important, I suppose. I was responsible for picking up ice on my way in and making sure the course worker coolers were stocked with ice and water. Just before the start of competition I had to run radios out to the worker stations as well. I probably spent three times as much time on 'course' in my truck than I did in the race car.
With the chief of course responsibilities I didn't get to walk courses on Saturday morning. Well, I did, but it didn't count because the cones needed to be re-marked because of Friday night's rain. So we did that. The same thing happened Sunday morning because it rained Saturday night as well. Kate didn't get to walk much either, since she was chief of waivers and stranded at the site entrance most of the time. Plus she has some knee/ankle trouble and has to wear a brace, so she's pretty gimpy.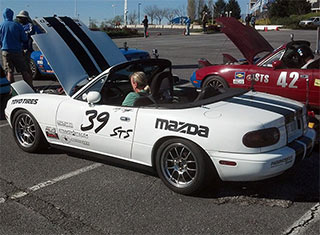 Kate suited up for first runs Saturday and got lost. I'll admit that the visuals aren't that great: there's a double gate leading into a loop and there's no real indication about which way is the right way. She got the left side right but screwed up the right side both times in the morning. Not a great start! My Saturday morning wasn't much better. I also did OK on the left side but screwed up coming out of the loop on the right side and went off course. I vowed to get it right the next time and I did, but it didn't matter since I had a .488 red light.
Saturday afternoon saw me leading off, running fifth out of ten in class. I maintained, although I pushed wide on the finish on the right side and whacked a cone that negates a run that would have put me third at the time (and eventually fourth). So I finished where I started. Kate screwed up the right side again starting her afternoon runs, and has an off course on the left as well, but got the last two runs right, and I think she was 8th.
We had great plans to review video and Solostorm data on Saturday night to get better prepared for Sunday. But we didn't walk in the door till around 9PM, still had to deal with the puppies, and had an early morning ahead of us. I cleaned off the cameras and put everything on chargers and then it was off to bed.
Historically I have not taken advantage of Sunday mornings to improve at Pros. But I was one spot out of trophies and would have already been there if I didn't cone that last Saturday run, so I knew opportunity was there. I just had to run the same time I already had, just clean. Very do-able, right?
I ran first, starting on the left side where I was already in good shape, so I could use that to warm the tires for an assault on the right. I made that right side run and put down a time to get me into 4th but not by much. Picked up another tenth on the left, and knew I had more time to find on the right. That went out the window with a .484 red light.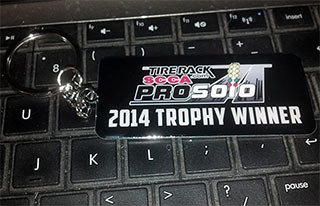 The guy I just passed for fourth ran with the second drivers so I had to sit and watch while he ran, at the same time making sure Kate is set as well since she was also running then. She killed it on Sunday, lopping off six tenths on the right and then another .55 seconds on the left. She was .046 seconds out of sixth going into her last run on the right side and got greedy, pushing wide on the finish and wiping out the finish cones. Meanwhile I was trying to watch the guy in fifth as he found two tenths on the right and three tenths on the left. That left him .023 seconds behind me with one more run to go and I resigned myself to get bumped out of the trophies. But he slowed down two tenths on that last run and I got fourth.
The first Pro Solo for Captain Slow was quite a success as we haven't been nearly that close to the front of the class at any Pro previous to that, and we're quite encouraged going forward. We still have some work to do: and engine tune, new suspension bushings and a better alignment will certainly get us closer to where we want to be with the car entering the meat of our autocross season. But with the strides already made to this point, and encouraging results to go along with them, we're quite excited to see how things shake out, especially in Lincoln, Nebraska.
---