Parsimonious Racing's 2015 Year in Review
We started the 2015 season with no shortage of optimism. A very productive winter and spring saw me complete a large number of items on the off-season to-do list, including the installation of polyurethane bushings and new alignment bolts, Mazdaspeed competition motor mounts, fresh air intake hoses, and a bunch of other little fixes. We capped the off-season with fresh brake and clutch fluid, and the car got a thorough cleaning. After a visit to York Automotive for a tune (after replacing the air-fuel meter), and then off to get an Andy Tooned alignment, we were ready to go.
The season opened with Washington DC Region's annual practice event. This is run like a regular four-run autocross, but points aren't awarded. We were greeted with a nine-car STS field, thanks to the combining of STS with STC. This put us up against a very good AJ Aviles and no slouch Okas Elam in Civic hatchbacks in addition to more standard STS cars. We were also going to have to deal with Sam Vassallo in his ex-Kraig Klippel Miata, with surprise co-driver Larry Casey. On this first day, I wound up about where I thought I should have, behind AJ and Larry. I beat Okas, which came as a bit of a surprise. I'm pretty sure we were all running on old Toyos as the 200TW offerings either hadn't shaken out yet or were hard to come by. Kate was seventh, sandwiched between Sam and Jen Fox.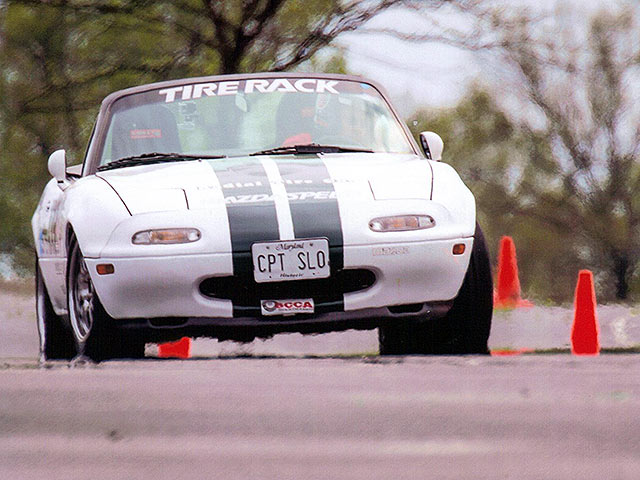 For the first official WDCR go-round, I got a rude awakening as I could only muster a fifth place finish. AJ won as usual, followed by a resurgent Okas. Greg Pollack got third and part-timer Jon Krolewicz got fourth in his CRX. Getting cones on my second and fourth runs didn't help. Since my goal entering the season was to get second in class points, I got off to a pretty poor start. My only hope, at this early stage, was that this fifth was going to be one of the two results dropped at the end of the season. Kate didn't have a great day either, being ninth out of fifteen and getting edged by Jen by half a second.
We were back at FedEx Field for WDCR #2 the very next week, and the results were about the same. I was fifth again, behind AJ, Okas, Larry, and Greg. At this point I figured there was no way I was going to get to second. I'm pretty sure by this point we were on the new Bridgestones, and dealing with a pretty big learning curve while Greg and Jen were still working on the previous year's Toyos. If there's one thing we learned, it's that the RE71Rs weren't that great as new tires right out of the box. Our confidence was a bit shaken as we were about to embark on the start of national events. If there was any consolation to our poor class performance, our PAX numbers were very good, usually in the top 40 out of well over 200 entrants.
We ran quite a bit more with Capital Driving Club than we had in the past four or five years, but when we did, we put up some pretty big numbers. I ran with them at Waldorf in early May with the Captain (probably on old Toyos) and put up the fourth best raw time and fourth best indexed time. I wasn't running for points with CDC since I only planned on running with them in Waldorf, and not even all of their Waldorf ones, so it was nice to just show up and run without the pressure of points or having to worry about helping put on the whole program.
When we went back to FedEx Field for the third WDCR points event, things were starting to go right. I finally got away from fifth place by winding up third out of eleven in class, behind AJ and Okas. By now I think Greg had gotten his Bridgestones and was dealing with the same new tire blues we were earlier in the year. Also helping our cause was the absence of Larry and Sam. Regardless, third is better than fifth so I was happy. Kate was also in the top half of the class, fifth, sandwiched between Greg and John Nicholaysen.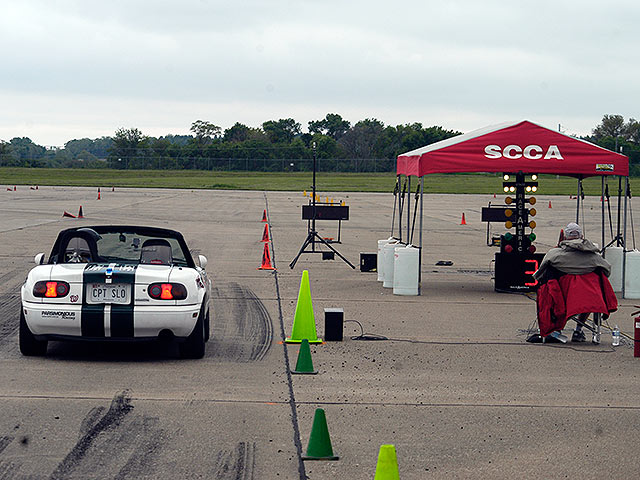 Now it's time to get serious. We trucked out to Lincoln, Nebraska for Spring Nationals for the second straight year. Not only did we want more seat time on the Lincoln concrete, but since we took on Greg and Jen as co-drivers for national events, we figured they should get to experience both Pro Solo and a National Tour all in the course of a single weekend. We started out in the Pro and found frustration. The car did everything we asked it to do, and it certainly felt fast, but the times weren't showing up on the stopwatch. Me and Greg were 18th and 19th out of twenty in the Pro, while Kate was fifth in L3, earning her first Pro Solo trophy as well as her first venture into the Ladies Challenge.
Perplexed, we started asking questions of some of the fast guys and discovered that our tire pressures, which we based on old Toyo information, were far too low. We made adjustments for the Tour portion of the weekend and things got better, at least for me. I got up to 13th out of 19 in STS - the second-best Miata there - while Greg coned away his first-day runs and could only muster 18th. Kate and Jen had a tougher time, having to run in drying conditions on the first day. The most memorable part of the whole weekend was the exhaust working loose after one of Kate's runs, forcing me to dive under the car, which was gridded in a lake, to try and tighten everything back up. I got it done and they didn't even have to take a mechanical delay. The only cost was a nasty blister on my thumb.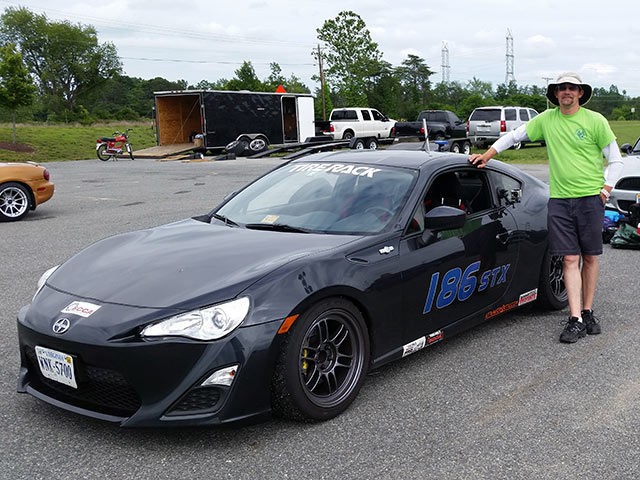 Back home, we ran with Autocrossers Inc. on one of their double days here in Waldorf. I had arranged to co-drive Steve Mitchell's excellent STR Scion FRS and that paid off handsomely with a third place in the Pro class for both morning and afternoon sesssions. Steve's car was so easy to drive, despite the increase in power compared to what I've been used to, that it felt right at home. I'd love another opportunity to run that car at a larger lot like FedEx Field. Kate took her Duckling, the semi-retired STS '93 Miata on the wrong tires (Dunlop Z2), and was eighth out of 13 in the morning and tenth in the afternoon.
While Captain Slow was becoming a very well-developed little car, I still had desires of making our derelict little CRX also work well in STS. I've seen the writing on the wall all year, the Hondas seemed to have the upper hand in national events run so far. I brought the CRX out to run with CDC in June and while I had high hopes for it, it wasn't great. I was in the mid-30s out of 111 entries and that's just not a great result for me with this particular club. The car was just slow off the line and lacked any acceleration. For the afternoon heat I switched to Greg and Jen's Miata but that didn't work much better. Perhaps I should stick with one car and do well with it rather than jump between a couple different ones.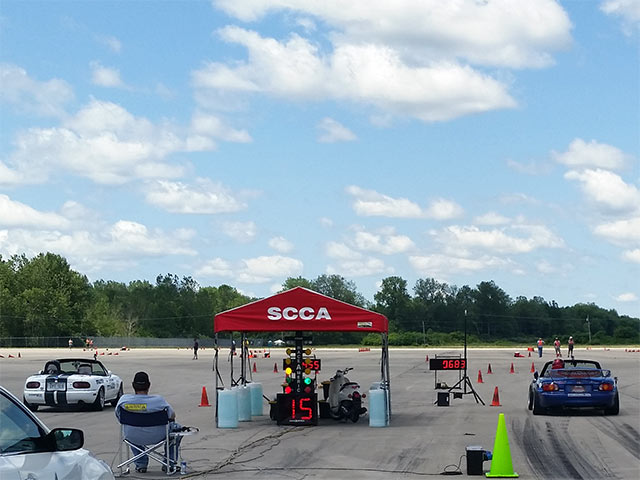 After the breather that was CDC, it was time to get serious again for our second Pro Solo of the year, this one at Toledo. This is where we made our very first national event, a Champ Tour back in 2011, and we hadn't been back since. How was it? Miserable! Forecasters called for absolutely biblical rain on Saturday and they delivered with an unrelenting rain, brisk mid-50s temperatures and constant wind. Some tried to stay dry; others accepted their fate and let nature take its course. In the wet stuff, the Captain was miserable. Running on the Bridgestones we had from back in April, we found the tread worn away to the point where there was no grip in the standing water that covered the course. Greg and I were near the bottom of STS after Saturday morning's heats, and the ladies weren't doing much better in L3. When the powers that be announced that the Saturday afternoon sessions were cancelled, we all breathed a sigh of relief that we weren't going to have to go back out in the elements again.
Sunday in Toledo was a far better day. The rain was gone and the course dried quickly, and we all got three shots at each side. Kate and Jen had cone problems and off-courses that hampered their progress. Greg got to run first in STS and put together some solid runs, and he finished fourth out of 18. That earned him his first Pro Solo trophy. When it was my turn, I also picked up quite a bit over Saturday, but came up a bit short and wound up seventh, one out of the trophies. Greg was the fastest Miata driver in STS at Toledo and even though I couldn't match his pace, I was beaming for weeks. After the slow start we got off to with WDCR, and the underwhelming performances we all had at Spring Nationals, now we saw that our little car - still underprepped in a couple key areas - just might be nationally competitive. Our hard work over the winter and meager investments were starting to bear fruit, and even if I wasn't the driver reaping all the rewards, I was glad that I could provide a competitive car for Greg.
Buouyed with confidence after a great Toledo Pro, it was back to the local WDCR season championship battle in late July. It wasn't the big class we'd been used to, just eight drivers including one first-timer, but I took advantage with a second-place finish behind AJ but ahead of Okas and Greg. Sam and Larry were again missing, and maybe it was about this time that Sam started hearing the siren song of C Prepared horsepower and started turning his back on STS, with Larry turning his attention to his SSR Corvette effort. Kate was sixth, ahead of Jen this time.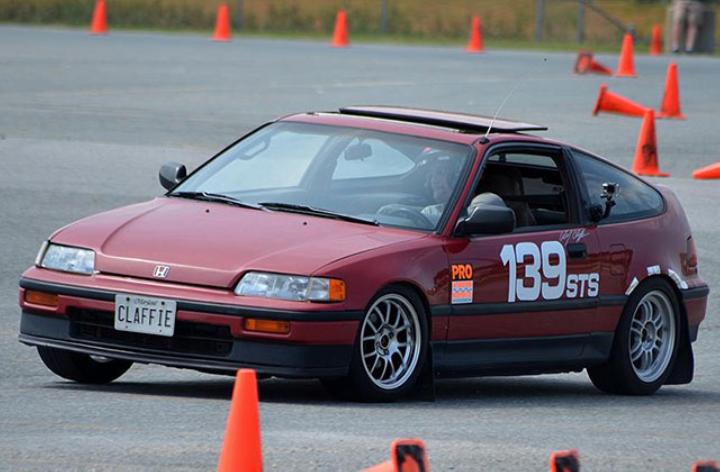 At Toledo, I picked up a handful of go-fast parts for the CRX from someone parting out his own car. I got a cold-air intake, chipped ECU and Momo steering wheel. All of those got installed in time for the second Autocrossers Inc. doubleheader of the year. While the car was not ideally tired (I need to do work to get the 7.5" wheels to work in the rear, and until I do, all I can run in the back are some very old Toyos). Even with the wacky tire combination, the car really came alive with the new toys added and we had a pretty good day with the little clunker. I was fourth in the Pro class in the morning, though I slipped to eighth in the afternoon when the course got a lot more technical. Still, it was encouraging and showed that the car had potential for being really good with just a couple more small tweaks.
Having said that, Kate did not have a good day with the CRX and will probably never want to drive it again.
Our third Pro Solo was in Wilmington, a place I really like running at. It was another big class, twenty drivers, and again we were right in the thick of things. Greg didn't do it normally, putting up his fastest runs on Saturday afternoon and not able to find improvement in the crucial Sunday morning heats. He still wound up seventh, one out of the trophies, beating me in ninth despite the fact that I did manage to find time on both sides on Sunday. Kate and Jen were ninth and tenth in L3.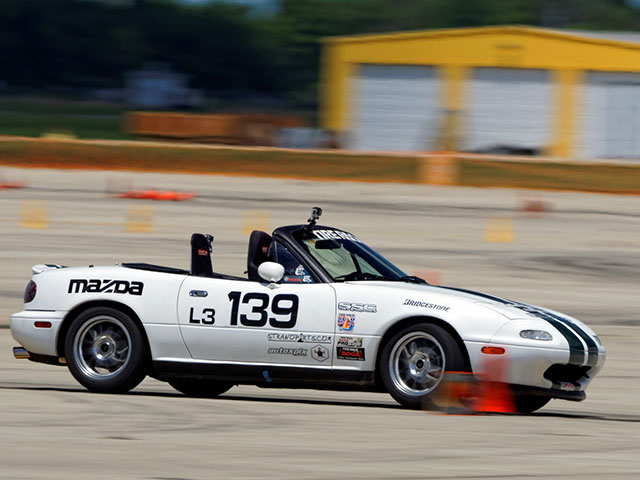 One thing I noticed at Wilmington - actually, I noticed this almost all year, but it really showed up at Wilmington - was the fact that the rear differential was acting a lot more like an open diff than the limited-slip unit it's supposed to be. Viscous diffs are supposed to wear out, but this was a fairly low-mile unit I put in the car not that long ago. I weighed my options: replace the diff with the spare that we brought to every Pro and hope the spare was better, or see if we could figure out how to make the diff in the car via other means. I read online that there is the possibility of the new bushings binding up the control arms, limiting their movement and perhaps not letting the inside rear tire remain in contact with the ground while the car is leaned way over in a turn. Our of curiousity, I pulled one rear upper control arm, buzzed the bushings down some with my D/A sander, and reassembled the corner with looseish, but double-nutted, hardware.I also made sure the front sway bar wasn't binding, adding a couple washers to space the bushings away from the chassis.
The results of that operation were positive. At WDCR's points #5 I got third ahead behind AJ and invading Mike Snyder, while Greg was out of town. Okas had switched away from STS as he had concerns about his Civic's structural integrity. I also got a treat when Andrew Huo invited me to co-drive his Corvette Grand Sport in the afternoon session. The course didn't really give the 430 HP beast any places to open up and roar, but it was fun anyway. I beat the car owner, but my best in the Corvette was almost three seconds slower than my best in the Miata.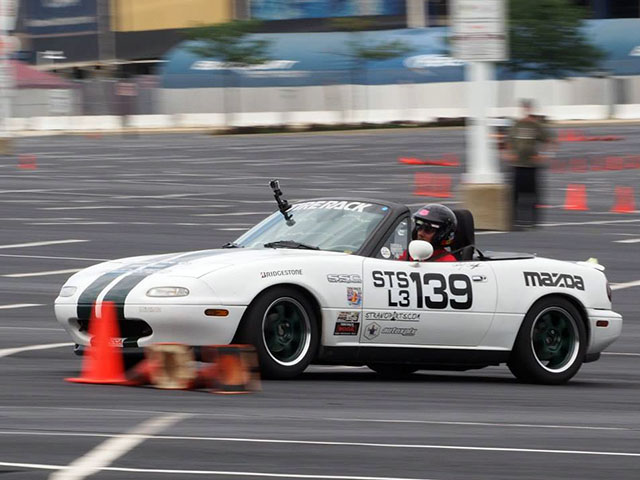 Three weeks later we were back at FedEx Field for our last tune-up before Nationals. I was again third in class, behind Little Mike and Greg. I was breaking in a new set of Bridgestones and they just weren't fast that new. AJ ran non-comp for some reason. Kate was fifth out of eight.
Having not broken anything at FedEx, it was off to Nebraska for the big show. We started with the Pro Solo Finale, where I was leading Greg right up to his final run on Sunday morning. He wound up fifteenth while I was only nineteenth out of 22 drivers: not a great start to our Nationals week. Kate and Jen were also deep in the L3 field. We had work to do!
Nationals did not get off to a flying start for either me or Greg. He started out by going off-course on his first Tuesday run. I did the same in almost the same place, and added a spin just before the finish to boot. Greg's second run was also a DNF. Mine was better, staying on course, but I spun in the same place. This time around I kept some situational awareness and kept the car rolling through the finish backwards so it wasn't a complete disaster. Greg and I were both in the unenviable position of needing a clean run to salvage something out of day one. Greg got his safe run in, though it lacked speed. I tiptoed through the finish, pointing the right way for once, and ended Tuesday sitting 40th out of 63 drivers. Kate was running midpack in STSL while Jen was trying to find speed.
Day Two of the National Championships saw us on the tighter Corn course and I thought that might work to my advantage. After shaking off a +2 from my first run, I had a good day and climbed to 36th when it was over. Greg was faster than me on this day, but was in such a hole after Tuesday that he wound up 46th. Kate kept pace in STSL and finished a solid seventh out of thirteenth, with Jen tenth in her first Nationals.
After a week of SRS BZNS autocross halfway across the country, the first opportunity to play after getting home was with CDC. I staged a showdown between Captain Slow and the CRX. I started with the Honda and despite it having no setup changes since the last time it ran, it was undriveably loose this time out. It spun twice on its first run and my confidence in the car was shattered. I went home between sessions and got the Captain and there was no comparison. The CRX was three seconds slower and that's all I needed to know. I haven't given up on it completely, but it will need work before it gets to run again.
A nice change of pace came in early October when WDCR ran a rare night event at FedEx Field. I showed up with our newly-acquired 2008 MX-5, "Sloppy". I had put Bilsteins and a bigger front sway bar on it, but it was the first time I got to run it so it was an unknown quantity. While the car was fun to drive, it suffered from understeer and that limited how hard it could be pushed. That it had pretty much zero front camber probably had something to do with it. I was a good four seconds off the good STR cars in attendance.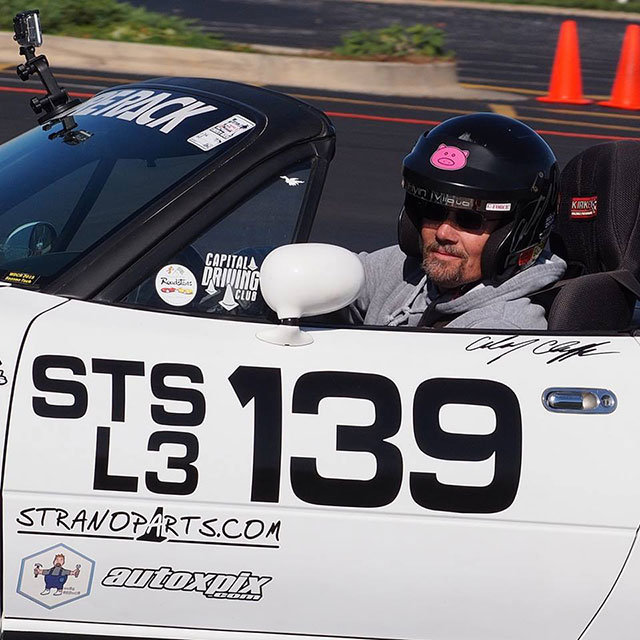 It was back to Waldorf for the last Autocrossers Inc. doubleheader of the year. I couldn't get out of work that morning so when I did get out, I drove straight from work to the grid as the morning session was well under way. I got someone to point me through the course the first time through, got caught up to the run count and didn't have a bad day. In the morning I was ninth out of fourteen in the Pro class. The afternoon didn't treat me quite as well as I was still ninth in Pro, but with a time that would have gotten beat if I ran STS open. That was a bit of a surprise.
We've now reached the final WDCR autocross of the season, and the stakes were fairly high. AJ had already run away with the season title, but second place was very much up for grabs. I had done some calculating to see if skipping it entirely - and scoring zero points which would then be dropped - would increase my chances, but no matter what, it all worked out that my best chance of sewing up second place was to run and beat Greg. It was going to be a cold morning and I pulled out all the stops to help my chances. I made up a set of tire warming blankets to try and keep heat in the tires between runs. Kate was no longer running due to her recent ankle surgery, so I needed to recruit a co-driver. Andrew Graul ran well with me a year ago, so I convinced him to join me again. Our tactics paid off as not only did I win the class for the day, but Andrew ran second-best, helping me sew up second place in points for the season.
Now the season is really winding down. One of the highlights is the doubleheader at Hershey Park that Susquehanna Region puts on to close their year out. Again, it was going to be cold, so the tire warmers were employed again. I also needed a tire warming co-driver, and for this I recruited kart driver, kaeroke master, and all around good guy Ryan Lower to give Captain Slow a shot. It's not often that someone gets into a Miata to experience something bigger and more powerful than his regular ride.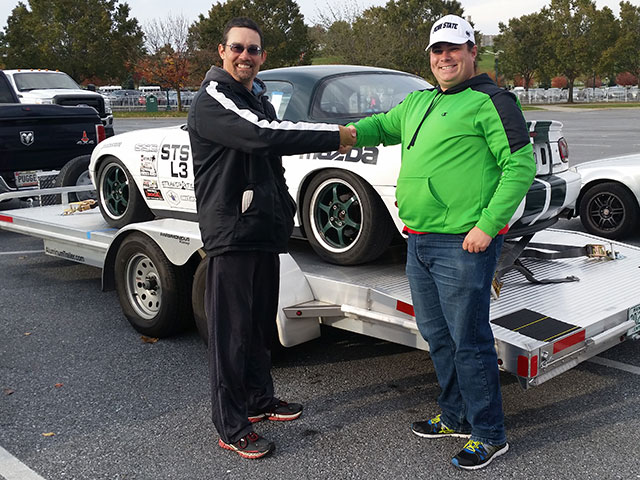 Ryan needed more seat time with the Captain, as he had issues with braking zones almost all weekend. He also had issues with those darn cones. While I was having a good weekend - second out of ten on Saturday and fifth out of fifteen on Sunday - Ryan could only muster sixth on Saturday and eighth (with no clean runs) on Sunday. We both lost out on Simmonz Contingency on Sunday, but that did little to dampen our spirits after a fun weekend.
This leaves us with just one more event to run. Capital Driving Club finished the local season with one more at Waldorf. The weather did not cooperate as it was rainy pretty much all day. I didn't prepare very well as I never bothered checking tire pressures before my morning heat. That first run resulted in not one but two spins, and my only thought was that I had to run home after this heat and get Sloppy, and its nice new Continental DW tires, for the afternoon. But as I got the Captain's pressures closer to right, it was behaving far better, and I stuck with that for the afternoon. That paid off with a time that was fifth best overall.
Overall, the year was a success. Locally, I achieved my goal of finishing second in the WDCR season standings. I went to Nationals with the goal of finishing in the top half of what turned out to be a huge class, and only came up short of that by a handful of positions. Two drivers got trophies in Pro Solo competition, and Kate was the first Parsimonious Racing driver to make a Pro Solo challenge. She wound up going up against Kim Whitener and got beat at Spring Nationals, but she's far from the first to fall victim to Kim and certainly won't be the last. The highlight of the season has to be the Toledo Pro Solo, though. After a miserable, rainy Saturday, we roared back on Sunday with Greg getting fourth in class, the best Miata in the class.
More importantly, we went through the entire season, with four drivers running Pro Solos and Nationals, and a full slate of local autocrosses, without losing a run due to a mechanical malfunction. The closest we came to missing a run was when the exhaust worked its way loose at the Spring Nationals Tour, and we got that fixed without needing to take a mechanical delay. I'm very proud that we could bring a competitive, reliable car to a whole bunch of events both home and away. We had a great 2015 and can't wait to get things going in 2016.
---